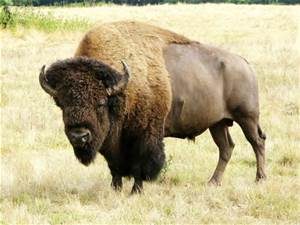 Yellowstone National Park has more Bison than the ecosystem can support!
Rather than letting the bison starve to death, the Park officials have  developed some methods on reducing the number of bison.  One is to quarantine them for two years in order make sure they're brucellosis free before shipping them to Native American reservations and allowing Montanan and Native American hunters to harvest a limited number of bison if and when they wonder out of the park.  But the animal rights activists have been causing chaos by cutting the quarantined fence and chasing the bison back in the park into the dark, so the hunters don't have a chance to harvest them.  While the hunters are following the rules, the animal rights activists are breaking the law.
BOZEMAN — Three people who were arrested while protesting the slaughter of bison near Yellowstone National Park have pleaded guilty to misdemeanor charges and are banned from the park for 5 years.
The Bozeman Daily Chronicle reports 22-year-old Hannah Ponder, 25-year-old Cody Cyson and 36-year-old Thomas Brown appeared in U.S. District Court in Mammoth Hot Springs on Monday. The members of an advocacy group called Wild Buffalo Defense had been jailed since their arrest last Tuesday near the park's Stephens Creek Capture Facility.
All three, pleaded guilty to entering a closed area of the park. Cyson and Brown also pleaded guilty to interfering with an agency function after chaining themselves to a squeeze chute. All were fined.
Ponder is from Donnelly, Idaho; Brown is from Hardwick, Vermont; and Cyson is from Minnetonka, Minnesota.