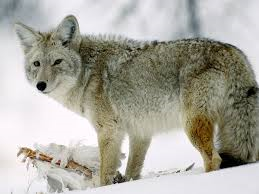 Coyote hunting gets harder and harder the farther the season goes on.  By March most of the coyotes have been either educated by calls, already made a fatal mistake or are starting to den up and are more interested in mating then in distress calls.  Here are some tips on how to call in those weary late season coyotes, and extend your hunting season.
When I approach my set up I keep the wind in my face, wear camo, stay low to the ground being careful not silhouette myself against the skyline and be as quiet as I can. Starting by not slamming my pick-up door.  If a coyote hear, sees you or smells you (especially smells you!) he will not come in.  I try to stay on the high ground, so I can overlook a lot of territory, and I use some homemade decoys.
I start with a male howl, and then listen for a response for five minutes or so.  Then I hit my distress call for another five minutes or so.  If your go to rabbit distress call is not working, mix it up maybe try a deer fawn bleat.  Another thing that works well is birds calls especially woodpeckers, magpies and crows.  After another five minutes I will hit my female coyote call.  I am letting a territorial male coyote  know that there is not only wounded prey, but a female coyote there as well.  I hit my distress call again for another few minutes.  Then I start introducing barks, trying to immediate a fit over the prey.
Most coyote hunters will tell to only call for only 15 to 20 minutes, and if nothing comes in move on, but I will work my set ups for 45 minutes to an hour, as a weary coyote will take longer to coax in.  The best hunting times are right after sun up and right before sun down.  I like to walk into my first set up in the dark, so I am ready to start calling as soon as day breaks.  It may take all day just to get one coyote called in, so don't be afraid to hunt until it's dark.
Good Luck & Good Hunting